Shift in the Blood by Lisa Manifold
Can true love find a way before vengeance runs its course?
One immortal art thief. One gifted forger. One ruthless crime boss. Everyone knows the art world is full of history and privilege. What not everyone knows is that it's also full of thieves, forgers, and one very determined vampire.
Clara
I shouldn't be here. I rarely do business face to face. Certainly not with new clients, and never where my boss can see me. But Maxim's done so much damage already, he's left me no choice. We started out as art forger and art thief, and now he thinks he owns me.
I took a deep breath, smoothing out my humid hair, my hammering heart, and the hiked-up hem of my dress. Off to the side of the red-carpet entrance of the museum's annual gala, I gave myself one final check. This had to go right. I only had one shot. My clutch under my arm, my chin tilted high, I assumed the air of someone who belonged .
After the last job I'd done, I'd made the call that it was time to go legit. No more forgeries. No more shady characters. No more putting myself—or more importantly, my little sister Carina—at risk. Of course, the guy who had been hiring me, Maxim Popov, wasn't going to be thrilled, but I'd saved up enough for us to leave and start over. We wouldn't be living in luxury, but we'd be comfortable and safe. Until my accounts froze. Until I found myself trapped.
Just when I thought there was no way out for me, the email of a lifetime came in.
His name was Didier Hugo. I've heard of him, even seen a flattering picture of him. In his photo, he seems to glow. He's attractive, older than me, and desirable. All those positive aspects are enhanced by his rumored wealth, his well-known reclusiveness. 
He wants to hire me. 
Not just for one painting, but for six. Six of them from this exhibit. 
When I made it past security, and into the first room of paintings, I stop. There's nothing else I can do. Timotheé Laferriere is the reason I became a painter. My parents took me to an exhibit that had his work, and once I saw his paintings, I stood next to them, staring from as many angles as possible, trying to take all of it in. The way he used light, and shadow, and his brush strokes—he's my standard of genius. Not to mention, he paints fields of wheat and a woman's profile so beautifully that it nearly brings me to tears. 
How in the name of all the saints am I supposed to copy this? In a way that even comes close to the beauty spread out before me? I'm breathless at the assault on my senses.
I have no clue how Didier Hugo got my contact info. Maxim tends to keep those who work for him under lock, key, and concrete if you're not careful. He's not a guy who shares anything. Certainly not his most profitable forger.
I sighed. When it was just me and Carina packing up and getting out, that was stressful enough. Now I'm carrying enough stress to turn my hair gray overnight. Didier Hugo has offered me enough money for six paintings that Carina can finish her bachelor's degree, go on for a masters, and take her time getting her PhD. All while I live in a nice area and pay someone to clean for us. 
That kind of money is impossible to turn down, even to someone who recently found morals. I thought I'd lost them forever when my parents died in a car crash, leaving me fresh out of college with a sister in high school to take care of. There had been enough money at first, but like everything, the money ran out. So I started doing commissions while still in school. Commissions led me to Maxim Popov, who made it lucrative for me to forge the paintings he requested. He told me he wanted to have a collection of the greats for himself without the millions involved to obtain them. It took me a year to figure out that I was painting work that suddenly disappeared, fell off a truck, or met with some unfortunate fate only to be discovered just in time for an opening, a sale, or special exhibit. 
Maxim kept me busy, and Carina and I were able to live.
But I didn't want to be a forger anymore. I could imitate most artists. I enjoyed the challenge. Now I wanted to find my own style, lost years ago to necessity and the desire to eat. 
Fatal Cravings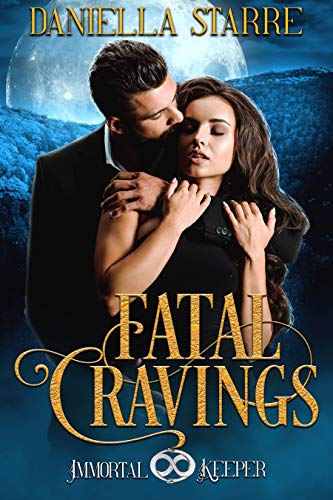 Some cravings can be fatal...
Devil's Cut
Ruination has never looked so good...