Shifters for the Holiday by Sedona Venez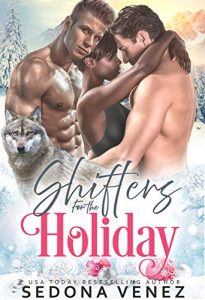 I'm not your ordinary damsel in distress. I'm a curvy, independent woman, used to running things my way. But when I'm trapped inside my cabin with my gorgeous bodyguards during a blizzard, sensual boundaries are crossed, leaving me attracted to not one, but both of my wolf-shifter protectors.
I sat up, wrapping my arms around my knees under the afghan, staring into the fire.
I was still a little more than halfway drunk, and my mind still raced with chaotic thoughts about the fire, about leaving Henry at the ranch, about why someone would want me dead when I was publicly estranged from the father they had a problem with. And, of course, why in the middle of all this chaos, I found myself hopelessly attracted to not one, but both of my new bodyguards.
I couldn't even choose between them. The attraction to both was too strong. Tucker's blond ruggedness contrasted nicely with Axel's dark, polished good looks.
Tucker challenged me, and sometimes annoyed me, but seemed drawn by the push-pull between us, even impressed when I stood up to him.
Axel was friendlier and more easygoing. I had thought at first that he was more secure than Tucker, but now I realized that Tucker was that used to having his authority recognized. Was it a rich guy thing, or was he the leader of his pack? It was hard to tell. Axel didn't defer to him. In fact, the two constantly seemed to banter and take shots at each other as easily as a couple of brothers.
I frowned. Figuring out the dynamic between them was just as difficult as figuring out which one I wanted more.
It's not like I have to choose anyway.
There's no way they're both interested in me. They probably have women throwing themselves at them all the time. And I really didn't want to make an idiot out of myself.