Falling Rain by Crystal Dawn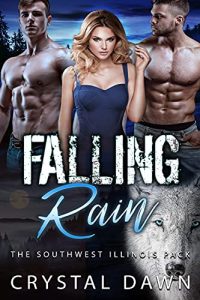 Laurel isn't sure what to do… Rain is her mate, but this new guy, is a vampire and is pulling her in but he wants Rain too, but Rain is stubborn and while he might share, he's not going for a male lover, no way. So, what will happen to the three of them?
Check prices before you buy.
"We've heard a lot about it, and we thought we'd check it out." He was looking at Rain like he was a treat. Then he suddenly looked at her and his eyes burned even brighter. The guy wanted them both, that wasn't good because she wasn't trained to deal with this kind of thing. She bet Will's head was buzzing with plans to extricate them, but this man knew what he wanted, and nothing would remove his attention from a target once he had decided on it.
The good thing was that Will knew where they were, and she would keep an eye on them. Laurel hoped King wouldn't try to keep them. He was arrogant and forceful, but surely there were limits to what he would try. He and Rain were having a stare off and neither wished to cave. King finally blinked, but it didn't make him angry. He actually smiled before examining Rain in a way that made him flush red while King's eyes glowed and sparked with interest.
"I suppose you'll expect to be on top now." King said as he continued to look at Rain with more excitement than Rain was comfortable with. Rain never got the chance to reply, King's phone rang. Normally Rain and especially Laurel would have heard both sides of the conversation, but the bar sounds interfered, and Laurel only caught some while Rain heard only King's words. "So sorry, I must go, but get anything you wish and put it on my tab. I want to extend an invitation to you both for tomorrow night. Please come back and be my guests."
"Thank you for your generosity. I'm not sure about tomorrow, we'll see." Rain answered for both of them. King nodded and hurried away.
Rain ordered them both food and a drink which they finished before they left. The strong odors in the bar would hide their scents so it wasn't a concern, but if they came back, they might end up somewhere anyone could scent them. They walked out the door slowly, they had learned something, but not much. Will left after they did since she had to rid herself of her admirers one of which was the number three guy. No surprise there since wolves were drawn to white wolves, changed or otherwise.
Check prices before you buy.