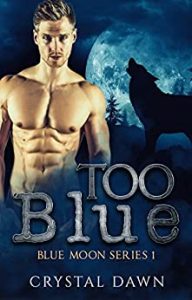 Way out in the middle of nowhere, Blue is alpha to a pack that is a refuge to outcasts. They are isolated so most of the pack are still waiting to find their soul mates. They decide to have a singles event that will bring in unmated wolves and raise a little money since that's never a bad thing, right?
Check prices before you buy.
The bus pulled over and the door opened. I could see the heels of what looked like a pair of worn cowboy boots hitting the bottom step as she paused like she was reconsidering getting off the bus.
Her jeans were faded and well-worn coming into view as she took the next step. The fit was snug, showing off her curvy hips and slim waist. Her cowboy shirt was tucked in with the top couple of buttons undone showing a nice hint of ample cleavage.
Her hair was long and golden blonde just a little lighter than my own. I couldn't see her eyes because she wore sunglasses. She seemed perfect in every way if you could get over the fact that she was human. Because she smelled like a female human, but there was something more.
Something I could not quite place that I just couldn't define. It was sexy, human, but with a touch of magic for lack of a better word. I didn't think she was a witch, fairy, or sorceress. It wasn't a magic user type of magic, more like a hint of supernatural of some sort or maybe even supernatural potential.
Maybe it was just wishful thinking or maybe I was mistaking pure sexual attraction for magic. I moved toward her ignoring the gasps from the males surrounding us. As she walked up to me, she pulled off her sunglasses and I stared into her sapphire blue eyes.
The only word that came to me was mine. I shook my head to clear it. This was so not happening to me. It wasn't surprising that I would want her. Every male there wanted her, but she just couldn't be my mate.
Check prices before you buy.