Slay All Day by Rochelle Paige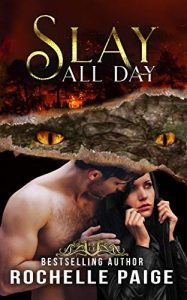 Denica Veles has spent more than a decade hunting down the undead as a vampire slayer. The dragon shifter never expected to meet her fated mate while out on a bounty, but there was no denying Trey Kaplan was meant to be hers…
As I was walking up the sidewalk to my house, I heard a strange sound directly overhead. I came to an abrupt stop and craned my head back to stare up at the dark sky. There was only a sliver of moon in the sky, but my enhanced sight allowed me to spot the figure circling overhead. "What the hell?"

Unless dragons flew a fuck of a lot faster than airplanes, I had no idea how the slayer had managed to get here so quickly. Maybe E.V.I.E. had already given her the case without talking to Connor about it. If so, my alpha was going to rip their director a new one for his oversight.

Denica must've spotted me because she dropped to the street in front of my house, changing back to her human form faster than I'd ever seen someone make the change before. I barely had the chance to appreciate the beauty of her dragoness with its green and purple incandescent scales before I took in how stunning she was in her human form. Her thick, dark hair hung straight down her back, and her eyes were a piercing shade of green with flames swirling—a sign that she had her fire magic to thank for the swiftness of her shift. She was about five and a half feet tall with a sleek, athletic build. But she still had delicate curves in all the right places, and her pale skin looked smooth as silk. I had no doubt she attracted male attention wherever she went, and just the idea of some guy hitting on her had my tiger pushing against my skin.

He needed to calm his ass down. I'd given him an entire weekend to roam free and work through whatever was making him so restless, and the last thing I needed was for him to act up around an E.V.I.E. slayer while we hunted down a vampire together.

"Can you point me in the direction of Connor Tigre's house?" she asked, flinging a bag over her shoulder.

"He's a few doors that way"—I pointed over my shoulder to the left—"but we weren't expecting you so soon."

She reached the curb, her eyes widening and her confident stride faltering. At first, I figured she was surprised I knew why she was in town, but then her scent reached me. I pulled the intoxicating mixture with an underlying hint of chocolate and mint deep into my lungs and finally understood why my tiger had been acting so out of character lately. He'd somehow known this moment was coming—I had found my fated mate.

He pushed for control, and it took all my willpower to rein him in. No way in hell was I going to let my tiger's impatience set the tone for my first time with my mate. This moment was too damn important. Denica was going to be everything to me for the rest of our very long lives. "Mine."