Vampire's Ghost by Tami Lund
Raiding and pillaging wasn't half as challenging as keeping his hands—and fangs—away from his young charge…
Drake Vohjol is a centuries-old vampire with a single mission: grow his blood-for-sale business. He's not interested in becoming a patron to a fledgling human woman who needs help developing mysterious skills.
"Where am I?" Before I could respond, she dropped her head against the seat. "Oh shit. It wasn't a dream, huh?"
"What wasn't?"
"Meeting you. The fact that you're a vampire. And I got to ride in your Corvette. And now I'm guessing we're at your house."
"You are correct, none of that was a dream. Why are you so leery of vampires?" I scooped her into my arms and pulled her from the vehicle.
She slapped at my chest. "Put me down!"
Sighing, I placed her on her feet. With her nose thrust in the air, she headed toward the door, where my housekeeper, Jules, stood, waiting.
I grabbed her far-too-small bag and followed.
"Jules, this is Kartina. Kartina, Jules. Jules lives here and can take care of anything you need."
"Anything?" Kartina asked.
My mind immediately leaped to needs I would be more than happy to fulfill for her.
"Within reason," I added.
Jules reached for the bag in my hand, but I tucked my arm behind my back. "I have it."
She arched her brows and then led us upstairs and to the left, all the way to what should be the master suite, if the master of the house weren't a vampire who had to avoid sunlight at all costs.
It was huge, with a bedroom, a sitting room, and a walk-in closet that was larger than the tiny room Kartina had been staying in at that disgusting house I'd plucked her from. If I did a single thing right in my eternal lifetime, it would be to ensure she never went back to that place, ever again.
I placed the bag on the dresser while Jules showed Kartina the bathroom, telling her where the towels and washcloths were kept and ensuring there was shower gel and shampoo and conditioner in the shower for her. There was even a plastic- wrapped toothbrush resting next to the sink.
Jules really did think of everything.
"Thanks," Kartina said finally, after refusing Jules's offer to put away her clothes and get her something to drink or eat.
"Thank you, Jules," I dismissed my housekeeper. Obviously, Kartina was going to be a low-maintenance houseguest.
I should go as well. There was precious little time before dawn, and I still needed to check my email and verify the details of a last-minute request for my services for next month. The vampire had connections in Chicago, and I'd been considering expanding my services, so it certainly served my purposes to ensure I sent only the best donors to his party.
I also needed to double-check the schedules of the humans I'd secured for the next two weeks' worth of engagements, pay a few bills, and…
Kartina rubbed her eyes and then quickly dropped her hands to her sides, like she didn't want me to catch her acting tired.
"It is nearly 5:00 a.m.," I pointed out.
She scowled.
"What sort of hours do you normally keep?"
She shrugged.
"Kartina, haven't we already established that we'll be working closely together for the foreseeable future? For what we've been tasked with, I do believe trust is important. And do you know how trust is earned?"
Her eyes narrowed.
"By getting to know one another. In addition to that, knowing your current schedule will help us adjust your new schedule."
She turned her back to me and wandered over to the French doors that opened onto a private balcony. "Are you always so logical?"
I smiled. "Usually, yes. I learned as a Viking awarded the opportunity to run my own raids."
She whipped back around to face me. "You were a Viking? Seriously?"
I nodded. "Seriously."
"Good God, that makes you…" I watched as she did the calculation in her head. "Over a thousand years old."
"Yes, it does."
Her gaze roved over my person, and I willed my body not to react. She wasn't assessing me in a sexual way, and it was foolish of me to wish otherwise.
"You look good for a thousand-year-old dude."
Fatal Cravings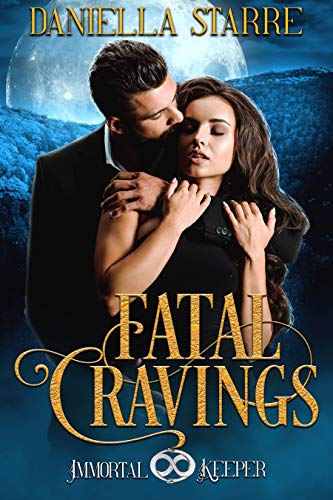 Some cravings can be fatal...
Devil's Cut
Ruination has never looked so good...