Pick Your Monster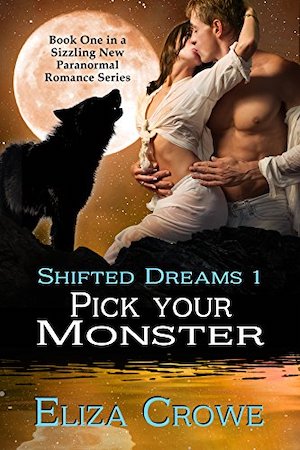 Who's the real monster…
…the werewolf?
Or the man Shayna thought she loved?
Humans and werewolves live in a delicate truce.
When Chris finds rogue wolves hunting on his property, he must stop the predators at any cost before they kill someone and bring down a wrath of trigger-happy humans.
His inner wolf cares nothing for these altruistic intentions. The wolf only wants to punish the packless scum who destroyed his family five years ago. But even the wolf stops short when they find the rogues' beautiful prey.
Shayna wasn't looking for the perfect man. She was looking for a love and a family. Now she's the focus of a murder investigation that sparks public outrage.
And at the next full moon, she might turn into a wolf.
Or she'll face another kind of monster, a murderer who hides in plain sight. But will either fate let her stay at Bullrush Ranch with Chris, the enticing man who seems intent on teaching her the true meaning of passion?
If you like shifter romance with plenty of heat and suspense, you'll love the first book in this sizzling new paranormal romance series, Shifted Dreams.
Get Pick Your Monster now.
Genres
Characters
Theme
Heat Scale